Wouldn't it be awesome if you could get a list of buttons, links, tabs, objects that need to be addressed before moving over from Salesforce Classic to Lightning?
Wouldn't it be great if you could get this information in a clean, neatly organized PDF that contains hyperlinks to the various buttons, links and components that need attention before going live with Lightning?
OMG.... Are you drooling yet?
I
f you're on Enterprise Edition or above (Professional Edition should be coming out soon), all you need to do is navigate over to SETUP > LIGHTNING EXPERIENCE > EVALUATE in order to kick off a customized email containing a customized PDF report with all the information you need.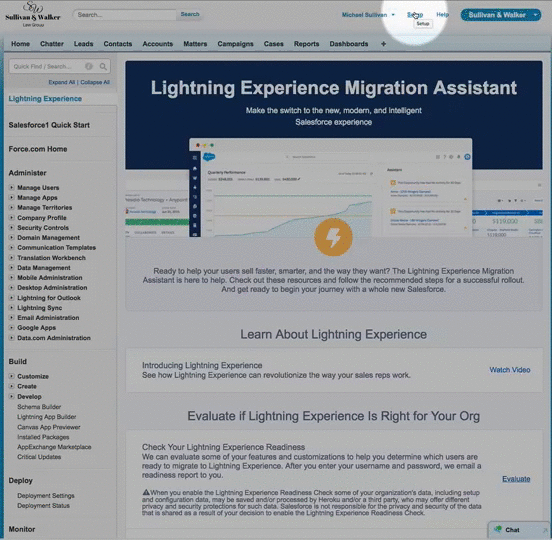 Want to learn more about this wonderful new tool? Click on this link to watch a recorded webinar explaining more about the Lightning Experience Readiness Check.
You're welcome.
-----------------------
About the author: David Giller
David Giller a Salesforce Trainer, Consultant, Blogger & Author. Although he started his professional career as an attorney, he entered the world of enterprise-scale IT management at NBCUniversal, and continued at GE Capital, where he was first introduced to Salesforce & became known as "The Salesforce Guru." David is now CEO of Brainiate. You can read more about David's bizarre career path here.
Don't miss a post!
Subscribe to this blog
via email, or add this blog to
your Feedly
.